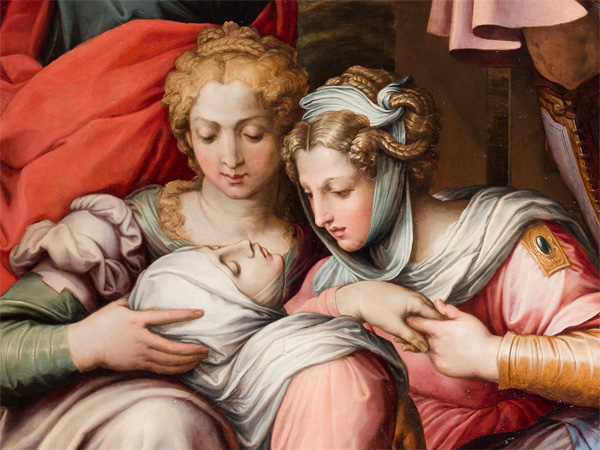 The restoration of La Deposizione by Giorgio Vasari is finished. The painting has been located in the room of Aldobrandini in Galleria Doria Pamphilj.
The Dialogo Caravaggio incontra Vasari also is finished.
The project has regarded the restoration of La Maddalena Penitente by Caravaggio and the big painting of Deposizione by Giorgio Vasari. The work has been from Jenuary to February 2013 in the Galleria Doria Pamphilj as "cantiere aperto": the visitors of the Gallery have seen specialists and restorers during their daily work through a glass.
During 9 months of work,technical mettings and tours have benn organized in the site, public has seen the paitings in different work fases and they have shared the results of the technical researches and of the works in progress through the restores and specialists speches who worked on the paintings.
Six thematic conferences have been organized, I Dialoghi dell'Arte, that have offered different points of view to consider the subjects of the restoration and of the technical researches on many cultural contents in the paintings. Giovanni Bietti, Marco Cardinali, Giulia Ceriani,  Andrea Damiani, Maria Beatrice De Ruggieri, Maria Clelia Galassi, Giulia Ghia, Lorenzo Pericolo, Paolo Roma and Salvatore Settis, each one with own view, have showed the Dialogo beetween the two painters.
I Dialoghi dell'Arte will be collected in an editorial collection by Nottetempo.
Verderame progetto cultura thanks the collaboration and the care in realization of the project
The princes Doria Pamphilj
The workers of the Gallery and of Arti-Doria
The specialists and restorers:
Giulia Silvia Ghia, Beatrice De Ruggieri, Marco Cardinali, Matteo Positano,
Paolo Roma, Antonio Iaccarino, Emanuela Comito, Grazia Del Giudice,
Fiorella Pezzotti, Claudia Berlini, Maurizio Berlini, Massimiliano Montenovi
Maria Ida Catalano, scientific consultant of I Dialoghi dell'Arte
The supporters of the project:
AXA Art, Logista, Banca Etruria, Edizioni Nottetempo, Montenovi